At the Maker's Mark distillery in Loretto, Kentucky, tradition and attention to detail are highly regarded. From the Samuels family brand insignia placed throughout the grounds, the original bourbon recipe that's still used, the one-batch production process, to the hand-dipped signature wax topper, it's clear that Maker's Mark values tradition.
Mike Monroe, Maintenance Manager at Maker's Mark, sits down and discusses another long-standing history at the Maker's Marks distillery, relying on ProMach product brands Fogg, P.E. Labellers, and Zalkin for their bottling line. Watch the full video below.
"I wouldn't hesitate to go with Fogg, Zalkin, and P.E. Labellers. All three work together well and I would recommend those choices to anybody that's looking to upgrade or put in a new bottling line in their facility." - Mike Monroe, Maintenance Manager at Maker's Mark
Product Offerings to Serve the Unique Needs and Ongoing Evolution of the Distilled Spirits Industry
ProMach knows how important it is for your packaging line to run at peak
performance and that's why we offer tailored solutions to fit market requirements and meet the demands of expanding operations. From the beginning to end of line and more, ProMach has the machines to ensure maximum productivity. With ProMach Distilled Spirits Solutions, you'll see how your packaging line can deliver more for you than ever before.
EXTENDED SHELF LIFE (ESL), GRAVITY, AND LEVEL FILLING SYSTEMS
Fogg Filler is an industry leader in spirits filling. Fogg offers a spirits rinser that captures and recirculates the rinse media creating virtually no product waste and no proof loss. Fogg offers top of the line glass packages with spring loaded lifter pedestals and a sanibar® and base wash system for cleanliness. Additional features that Fogg boasts of are proven fill level consistencies, precise bottle control, explosion proof electrics, and simple valves for low maintenance. Fogg fillers are capable of filling multiple sized bottles in PET and or glass. Just a few simple, color coded, change parts are needed for a quick, efficient change over. Additionally, Fogg offers a wide range of capping turrets that can accommodate nearly any cap for your unique package.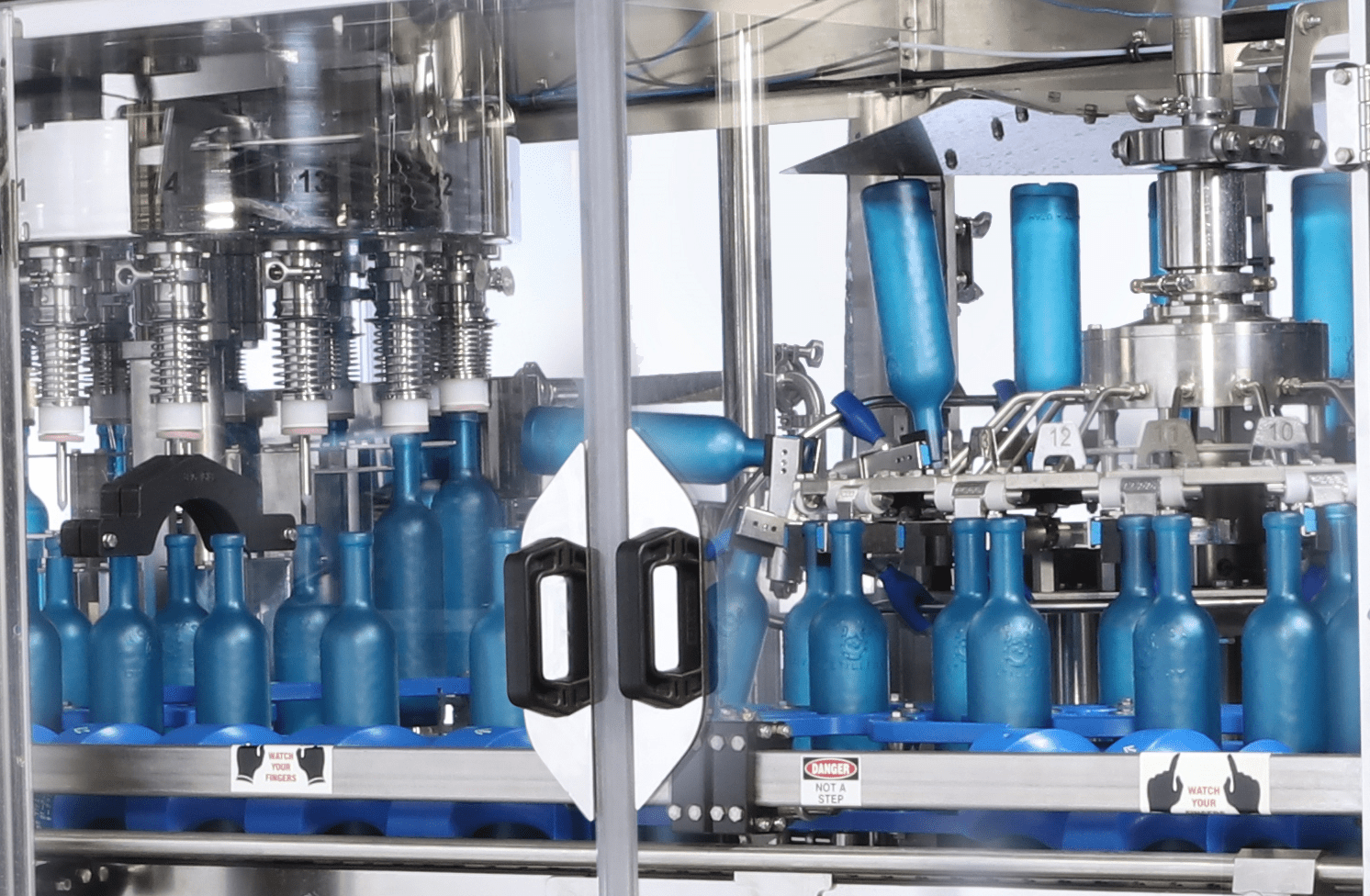 WRAP AROUND, SPOT, AND PRIME LABELING SYSTEMS

Spirits manufacturers across the globe rely on P.E. Labellers high-speed rotary and linear labeling systems. The key feature is absolute flexibility in combining all the different existing labeling technologies: pre-cut with hot glue, hot glue reel, cold glue reel, adhesive technology, and hybrid labeling solutions. The concept of modularity is extended to every component of the machines, designed in ergonomic solutions, and strongly oriented towards energy saving. The distilled spirits industry requires a level of competence and flexibility that can only be fully satisfied through a modular approach. Rotary labelers are combined with independent self-adhesive stations, cold glue, for fiscal and guarantee seals, and linear sleeve models with heat-shrink tunnels.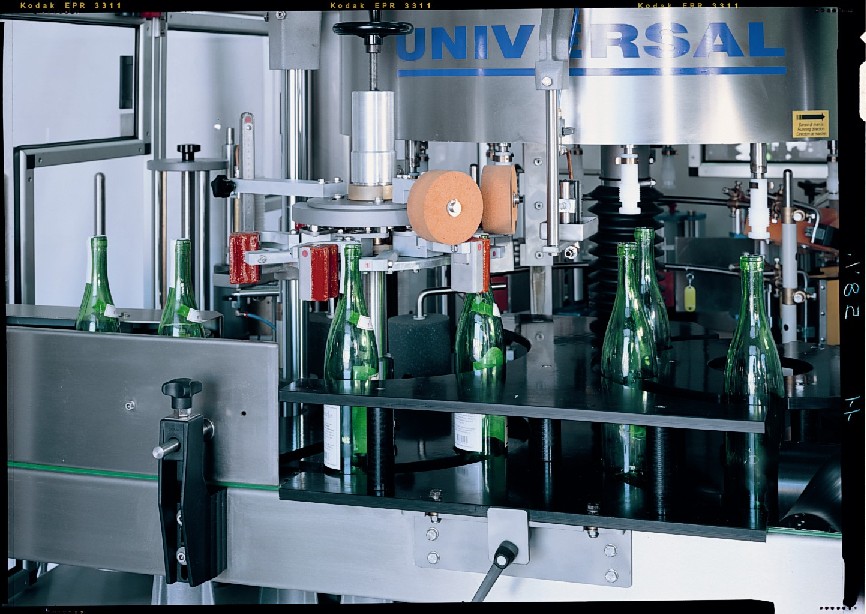 BOTTLE CAPPING AND
CAP FEEDING SYSTEMS
Zalkin offers innovations to the global capping industry and applies caps and closers, along with capping and sealing methods used especially for the distilled spirits industry. Spirits producers are progressively seeking greater visual impact for their brands to set their product apart from the competition and provide the upmost quality image for their brand. All closures require proper handling with specialty closures such as those with a unique shape, high-gloss finish, embossed features, or those made of glass, requiring more sensitive handling and application. Zalkin continually addresses customer needs to ensure precise and gentle handling of such closures to prevent even minor visual damage.
ROBOTIC CASE PACKING
AND PALLETIZING
Brenton has over 30 years of experience creating automation solutions for the distilled spirits industry. By partnering with our customers, we successfully have designed and manufactured case packers, palletizers using both robotics and traditional automation. Each of these machines allows companies in the distilled spirits industry to cut the cost of manual packing operations, upgrade technology, increase throughput, and/or accommodate new or different packaging, and in turn, achieve top operational efficiencies. Brenton has the knowledge and experience to create the end of line automation for our customer's applications.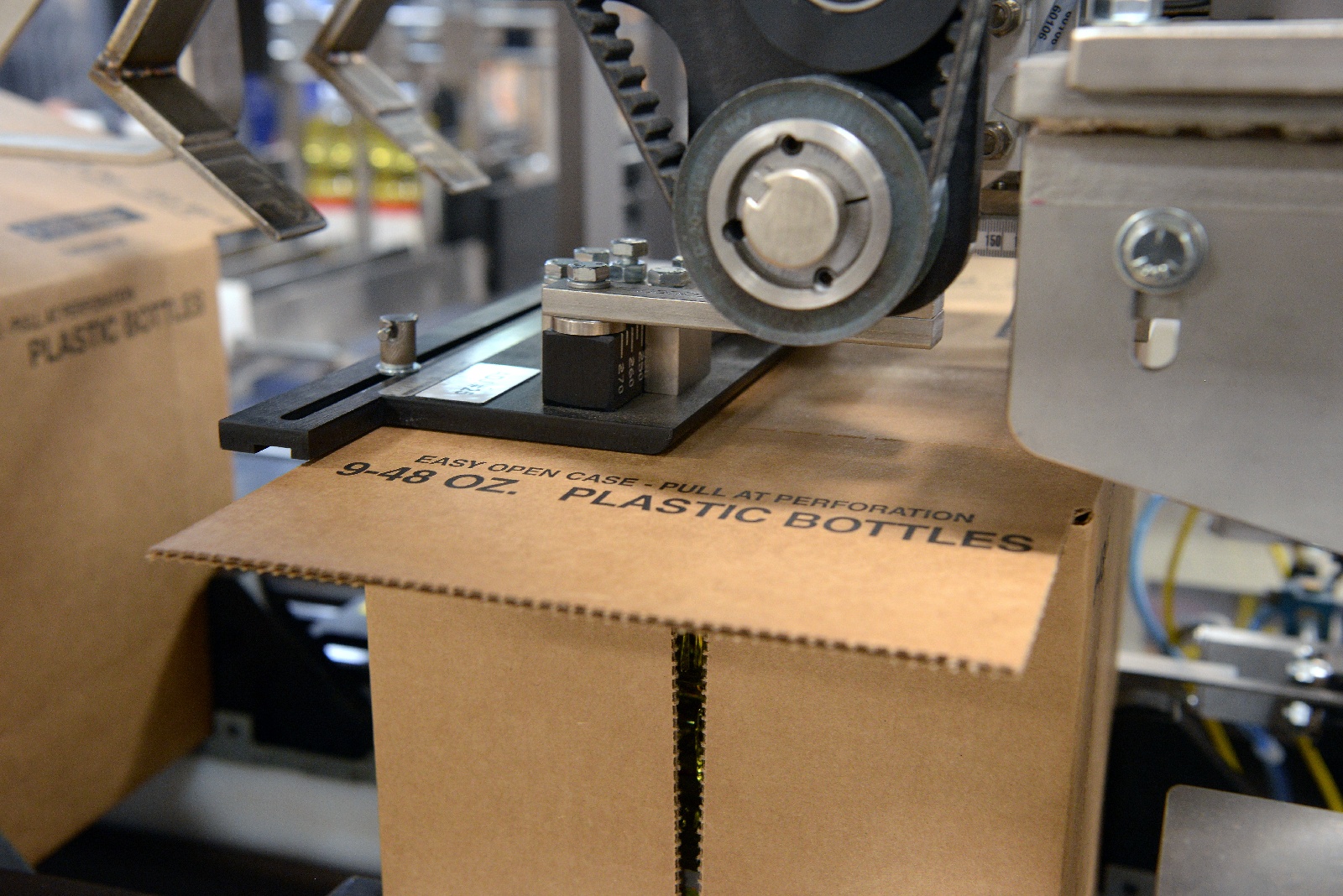 SHRINK WRAPPING AND
BUNDLING SYSTEMS
No matter how you go to market, Texwrap and Tekkra shrink wrappers and shrink bundlers provide solutions for the wine & spirits industries that cover the gamut of unsupported and supported multipacks. Speed, versatility, and vertical conveyance allow these machines to be used directly off the filler, while the product is standing upright. Multipacks can be collated and shrink wrapped immediately to keep them clean and unitized for shipping. The top seal eliminates side seams leaving printed film looking pristine, or for labeled products precise high-speed orientation and print registration options ensure consistent retail-ready presentation.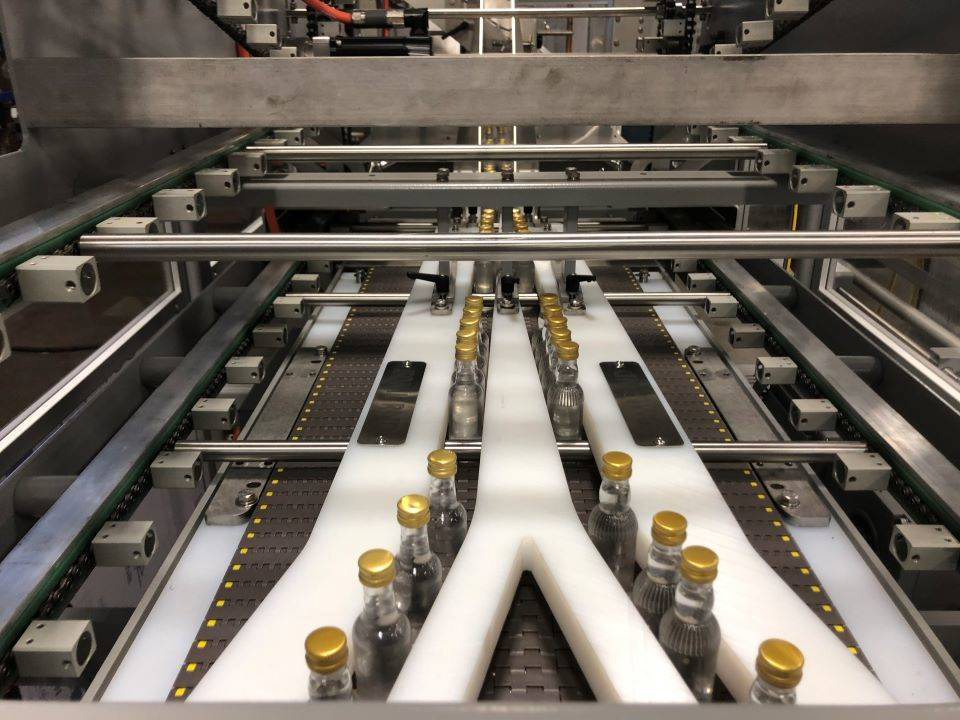 STRETCH AND PALLET
WRAPPING SYSTEMS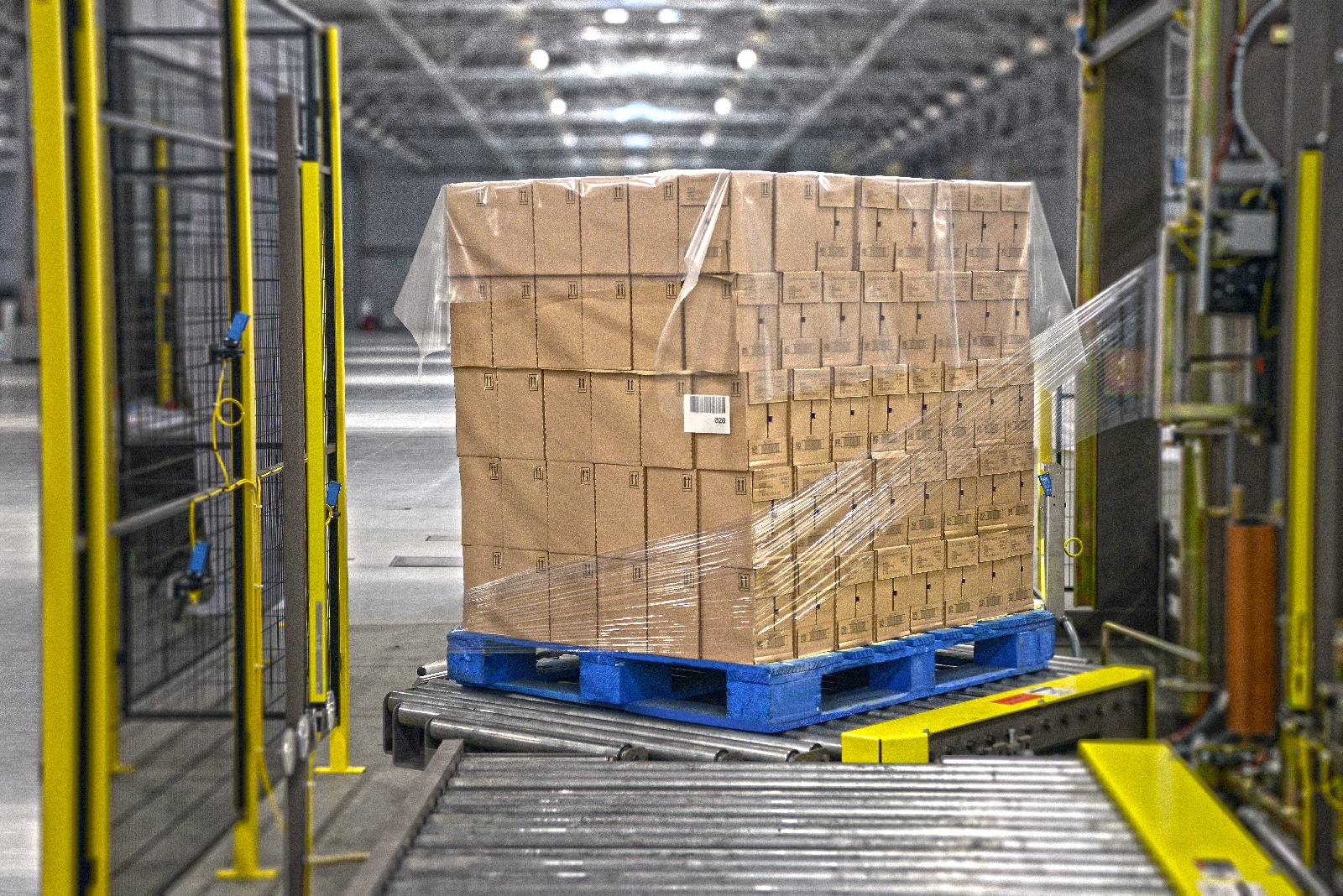 Orion equipment is a standard fixture in many bottle manufacturing, beverage bottling and distribution facilities. Integrated machine features allow for careful handling of empty lightweight PET bottles or finished product in bottles and cans. "Soft start and stop" and rotary arms allow Orion wrappers to gently wrap unstable and extremely light loads, as well as unstable mixed loads common in beer and beverage distribution operations. Additionally, our smooth performance LoPro drag chain conveyors are the new standard for distribution facilities where high-speed throughput and unstable mixed loads are the norm.
TURNKEY CONVEYOR AND ROBOTIC
PACKAGING SYSTEMS
Statera is a supplier of integrated turnkey conveyor systems for complete or partial production lines, configurable, budget-friendly robotic palletizers, and robotic pouch case packers. We offer a full range of product, case, and pallet conveyor technologies as well as custom-designed conveyor sections for specific applications. Statera also offers value-priced, configurable robotic palletizing cells in semi-automatic and fully automatic configurations and versatile robotic pouch case packers.
Contact a Distilled Spirits Packaging Expert
Copyright © 2021. All rights reserved.